Rods/Bars/Wires :
Rods/Bars/Wires Exporter
Contact Us For High Quality Rods/Bars/Wires
At JB Steel we pride ourselves on always putting the customer first. We help make stainless solutions simple for you by ensuring satisfaction through high delivery performance, flexibility and extensive service.
We are pleased to introduce ourselves as one of the leading Importers, Exporters, Suppliers & Stockists of Rods/Bars/Wires.
We would appreciate to get your esteemed enquires and look forward to the pleasure receiving your valuable response.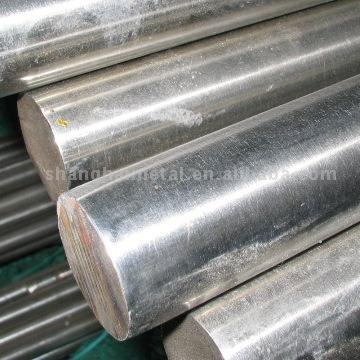 Rods Bars Forged Shaft Shafting 6 mm to 2500 mm diameter
Cold Drawn Bright Hexagonal Bars, Square Bars, Rectangular Bars, Round Bars
ASTM A479 GR. 201, 202, 301, 304, 304L, 304H, 304LN, 309, 309S, 310, 310S, 316, 316L, 316LN, 316H, 316Ti, 321, 321H, 347, 347H, 317, 317L, 317LN, 410, 410S, 416, 420, 420F, 430, 431
ASTM A276 GR. 201, 202, 301, 304, 304L, 304H, 304LN, 309, 309S, 310, 310S, 316, 316L, 316LN, 316H, 316Ti, 321, 321H, 347, 347H, 317, 317L, 317LN, 410, 410S, 416, 420, 420F, 430, 431
Stainless Steel Bright Bar Cold Drawn, Solution Annealed & Polished with h9 (Din 671), h11 (ASTM A484) tolerance
Stainless Steel Bright Bar Cold Drawn, Centreless Ground & Polished with h9 (Din 671), h11 (ASTM A484) tolerance
Stainless Steel Bright Bar Cold Drawn, Centreless Ground & Polished (Strain Hardened) with h9 (Din 671), h11 (ASTM A484) tolerance
Stainless Steel Bright Bar Peeled, Centreless Ground & Polished with h9 (Din 671), h11 (ASTM A484) tolerance
ASTM A182 F304, F304L, F304H, F310S, F316, F316L, F316H, F321, F321H, F347, F347H, F348
ASTM A315 Grade CF3, CF8, CF3M, CF8M, A315 Gr.CF3, CF8, CF3M, CF8M
AISI-440C, JIS-SUS-440C, SUS440C, DIN 1.4125, X105CrMo17
IS 2062 GRADE A, B, & C ASTM A105, LF2, C-45, C-45N, C-60, C-60N, 355N
SAE / AISI 1008, 1010, 1018, 1020, 1026, 1035, 1040, 1045, 1050, 1060, 1080
SAE / AISI 1525, 1541, 1551, 1561, 1572, 4130, 4140, 4145, 4150
C-20/1020, C-45/1045, C-45N, ST-52, ST 52-3N, S355J2G3, S355J2G3N DIA 350 MM TO 2500 MM
ASTM A350 Grade LF-1, LF-2, LF-3, LF-5, LF-6, LF-9, LF-787
High Tensile IS 8500 Grade FE 490B, IS 8500 Grade FE 570B, IS-8500 Gr.490B, 570B
EN19, AISI 4140, SAE 4140, 42CrMo4, 42CrMoS4, Din 1.7225
EN-19, AISI-4140, SAE4140, 42CrMo4V, 42CrMoS4V, Din 1.7227
AISI 4150, SAE4150, 50CrMo4, 50CrMo4V, 50CrMo4+QT, 50CrMo4+HT, Din 1.7228
EN24, AISI 4340, SAE 4340, 34CrNiMo6, 34CrNiMo6V, Din 1.6582
SAE9310 AMS6265, SAE 9310 AMS 6265, AISI9310 AMS6265, AISI 9310 AMS 6265
SAE 9310 AMS 6260, AMS 6265, 16NCD13, BOHLER E105, AISI/SAE9310 VAR
ASME SA/ASTM A193 Grade B7, ASTM A193 Grade B-7, ASTM A193 B7, ASTM A193-B7
ASME SA/ASTM A193 Grade B16, ASTM A193 Grade B-16, ASTM A193 B16, ASTM A193-B16
SA193 Grade B7, SA193 Grade B-7, SA 193 Grade B7, SA 193 Grade B-7, SA193 B7
SA193 Grade B16, SA193 Grade B-16, SA 193 Grade B16, SA 193 Grade B-16, SA193 B16
H13 HOT WORK TOOL STEEL DIN 1.2344 X40CrMoV5-1, SKD-61, AISI H-13
H-13 HOT WORK DIE STEEL, DIN-1.2344, AISI Grade H13, JIS-SKD61, AISI H13
DIN 2714 / 56CrNiMoV7, DIN 1.2714(56CrNiMoV7), DIN-2714/56CrNiMoV7, L6 Hot Work Tool Steel
S355J2G3, S355J2G3N, S355J2G3+N, S355J2G3 Normalized Condition EN 10025
ST 52.3, ST52.3, ST52-3, ST 52-3, ST52, ST 52, ST52.0, ST 52.0 DIN 17100
ST 52.3N, ST52.3N, ST52-3N, ST 52-3N, ST52N, ST 52N, ST52.0N, ST 52.0N DIN 17100
ST 52.3+N, ST52.3+N, ST52-3+N, ST 52-3+N, ST52+N, ST 52+N, ST52.0+N, ST 52.0+N DIN 17100
BS 970 EN8, EN9, EN19, EN24, EN26, EN30, EN31, EN36, EN45, EN45A, EN47, EN48
BS-970 EN 8, EN 9, EN 19, EN 24, EN-26, EN 30, EN 31, EN 36, EN 45, EN 45A, EN 47, EN 48
709M40 (EN19), 817M40 (EN24), 826M40 (EN26), 835M30 (EN30B), 655M23 (EN36B), 835M15 (EN39B)
EN-30B 835M30 Din 1.6747 30NiCrMo16-16, EN-36C 832M13 Din 1.6657 14NiCrMo13-4
826M40 DIN 1.6745 / 1.6746 40NiMoCr10-4 / 40NiMoCr10-5, 826M40V, 826M40W, EN26
16MnCr5 Din 1.7131 BS 527M17, 16MnCrS5 Din 1.7139 BS 590M17 Case Hardening Steels
20MnCr5 Din 1.7147, 20MnCrS5 Din 1.7149, EN-353, EN-36, EN-36A, EN-36B, EN-36C Case Hardening Steels
SAE8620, AISI 8620, 20MnCr4 Din 1.7321, 20MnCrS4 Din 1.7149 Case Hardening Steels
ASTM A182 F11, F22, F5, F9, F91, F92 BARS, RCS, BILLETS
ASTM A182 F-11, F-22, F-5, F-9, F-91, F-92 BARS, RCS, BILLETS
ASTM A182 Grade F5 Din 1.7362 12CrMo195 ASTM A182 Gr.F5
ASTM A182 Grade F11 Din 1.7337 16CrMo44 ASTM A182 Gr.F11
ASTM A182 Grade F12 Din 1.7335 13CrMo44 ASTM A182 Gr.F12
ASTM A182 Grade F22 Din 1.7380 10CrMo910 ASTM A182 Gr.F22
ASTM A182 Grade F9 Din 1.7386 12CrMo91 ASTM A182 Gr.F9
ASTM A182 Grade F91 Din 1.4903 X10CrMoVNb91 ASTM A182 Gr.F91
ASTM A182 Grade F92, ASTM A182 Gr.F92, ASTM A182-F92
ASTM A217 Grade WC6, WC9, C5, C12, C12A, A217 Gr.WC6, WC9, C5, C12, C12A
Din 1.7362, Din 1.7337, Din 1.7335, Din 1.7380, Din 1.7386, Din 1.4903
ASTM A336 Grade F11, F12, F5, F9, F22, F91 BARS, RCS, BILLETS
ASTM A336 Grade F-11, F-12, F-5, F-9, F-22, F-91 BARS, RCS, BILLETS
ASTM A336M Grade F11, F12, F5, F9, F22, F91 BARS, RCS, BILLETS
ASTM A336M Grade F-11, F-12, F-5, F-9, F-22, F-91 BARS, RCS, BILLETS
AISI/SAE 4140, AISI/SAE 4145, AISI/SAE 4150, AISI/SAE 4340, AISI/SAE 8620
22CrMo4 Din-1.7252, 24CrMo4 Din-1.7258, 25CrMo4 Din-1.7218, 26CrMo4 Din-1.7219
25CrMo4, 25CrMo4 HT, 42CrMo4, 42CrMo4 HT, 41CrNiMo6, 41CrNiMo6 HT
34CrMo4, 34CrMo4 HT, 34CrMoS4, 34CrMoS4 HT, 34CrMo4 QT, 34CrMoS4 QT
34CrMo4V, 34CrMo4V HT, 34CrMoS4V, 34CrMoS4V HT, 34CrMo4V QT, 34CrMoS4V QT
42CrMo4, 42CrMo4 HT, 42CrMoS4, 42CrMoS4 HT, 42CrMo4 QT, 42CrMoS4 QT
42CrMo4V, 42CrMo4V HT, 42CrMoS4V, 42CrMoS4V HT, 42CrMo4V QT, 42CrMoS4V QT
25CrMo4 QT, 25CrMo4+QT, 42CrMo4 QT, 42CrMo4+QT, 41CrNiMo6 QT, 41CrNiMo6+QT
X10CrMoVNb91, X12CrMo91, 12CrMo195, 10CrMo910, 13CrMo44, 16CrMo44
X10CrMoVNb9-1, X12CrMo9-1, 12CrMo19-5, 10CrMo9-10, 13CrMo4-4, 16CrMo4-4
42CrMo4, 42CrMo4+QT, 42CrMo4+Q&T, 42CrMo4 Quenched & Tempered
AISI-4130 Q+T, AISI-4140 Q+T, AISI-4145MOD, AISI-4340, AISI-8630MOD For Oil & Gas Industry
SAE-4130 Q&T, AISI-4140 Q&T, SAE-4145MOD, SAE-4340, SAE-8630 MODIFIED For OIL & GAS
AISI 4140 Forged Quenched & Tempered, SAE4140 Forged Quenched & Tempered
AISI 4340 Forged Quenched & Tempered, SAE4340 Forged Quenched & Tempered
AISI 4145H MOD Q&T, AISI 4145H MODIFIED QUENCHED & TEMPERED STEEL FOR COLLARS
AISI 4145 H MOD API6A PSL-3 NACE MR-01-75, AISI4145Q&T API 6A, PSL3 NACE MR 0175
AISI 4130 H Q&T API6A PSL-3 NACE MR-01-75, AISI4130Q&T API 6A, PSL3 NACE MR 0175
AISI 4140 H API 6et L80, API 5CT, NACE MR-01-75, AISI4140Q&T API6et L-80, API 5CT MR 0175
A350 LF-2 API6A PSL3 NACE MR-01-75, A350LF2 API 6A, PSL3 NACE MR 0175
A182-F6NM H&T UNS S42400 Hardened & Double Tempered NACE MR0175 & API Standard
F6NM Hardened & Tempered High Corrosion Resistant & Excellent High Toughness in Low Temperature, ASTM A182-F6NM High Resistances of Sulfide Stress Cracking and Stress Corrosion Cracking in Sour Environment Service (H2S, CO2) Low Cracking Sensitivity
34CrMo4V DIN 1.7220 Quenched & Tempered, 42CrMo4V DIN 1.7225 Quenched & Tempered
42CrMoS4V Din-1.7225 Quenched & Tempered, 34CrMoS4V Din 1.7220 Quenched & Tempered
42CrMoS4, 25CrMo4, 34CrNiMo6, 35CrNiMo6, 16MnCr5
ASTM A694 F42, ASTM A694 F46, ASTM A694 F52, ASTM A694 F56
ASTM A694 F60, ASTM A694 F65, ASTM A694 F70, ASTM A694 F80
20MnV6 EN10208-2 / EN10294-1, 20MV6 EN10208-2 / EN10294-1, 20MnV Din 1.5217 EN-14A
20Mn2, AISI 1524, SAE1524, 22Mn6, 150M28, SMn 420, 30Mn2, AISI 1330, SAE1330, 28Mn6, SMn 433
35Mn2, AISI 1335, SAE1335, 150M36, SMn 438, 40Mn2, AISI 1340, SAE1340, 42Mn6, 150M36
45Mn2, AISI 1345, SAE1345, 42Mn6, SMn 443, 50Mn2, AISI 1345, SAE1345, SMn 443
HY-TUF AMS6418, DMS1841H Grade A QS Z1/7 Rev. 3, MIL-S-2154 Class AA
HYTUF AMS 6418, DMS 1841H Grade A QS Z1/7 Rev. 3, MIL-S-2154 Class AA
Nitralloy 135/135M (MODIFIED), Nitralloy 135 MOD, Nitralloy Alloy 135 Modified VAR
Alloy 135 MOD VAR, Nitriding 135/135M (Modified), Alloy 135MOD, Alloy 135M VAR
SUS446, SUS 446, AISI Type 446, UNS S44600, DIN 1.4762, SAE J405, SAE51446
54SiCr6 Wire Rods, SAE9254 Wire Rods, SAE 9254 Wire Rods, AISI 9254 Wire Rods
Duplex 2205, Duplex SAF 2205, Duplex SAF2205, Duplex UNS S31803, Din 1.4462 EN10088 F51
Duplex ASTM A182 Grade F60 / ASME SA182 Grade F60 NACE & Norsok Approved
Duplex SAF2205 SANMAC, URANUS 45N, PREN=33, PREN=34, PREN=35, PREN=36 DIN 1.4462
Duplex-2205 UNS S31803 / UNS S32205 DIN-1.4462 EN 10088-3 PREN = 33, PREN = 34, PREN = 35
Super Duplex 2507, Super Duplex SAF 2507, Super Duplex SAF-2507, Super Duplex UNS S32750 F53
Super Duplex SAF 2507 UNS S32750 DIN 1.4410 EN10088 URANUS 47N(+) PREN=41 A812 F-53
Super Duplex UNS S32760 F-55 ASTM A182 F55 SA182 F-55 DIN 1.4501 UNS 32760 F55
IS

10C8S10
10S11
13S25
11C10S25

40C10S18
40S18

AISI/SAE

1116
1119

1139

DIN 17006

9S20
(DIN 1651)
10S20

-

BS 970

220 M07
230 M07
240 M07

212A42
216M44
226M44

EN

1A
1B

JIS

SUM21
SUM22

SUM43

GOST

-

Nominal Chemical Composition %

C

0.11

0.40

Si

0.10 Max

0.25 Max

Mn

1.00

1.15

P

0.060 Max

0.040 Max

S

0.250

0.160

Cr

-

Mo

-

Ni

-

VISL Equivalent


M 10S

M 40SMn

Applications

For machine parts subject to comparitively light loads such as bolts, nuts, screws etc. These steels are intended for use where easy machining is the primary requirement.

Forging Temp. °C

1100-850

1200-850

850-880

850-880

Soft Annealing
Temp.°C

-

650-700

Annealed
Hardness BHN max

143

200

Hardening Temp.°C


-

840-870

Hardening Media


-

Oil

Tempering Temp.°C

-

530-650

VISL Equivalent

M 10S

M 40SMn
IS

55C4,55C8
C55,
C55Mn75

60C4,60C6
C60
65C6

70C6,75C6
C70, C75
65C6

AISI/SAE

1055

1060,1065
1059,1064, 1561

1069, 1070
1071, 1566

DIN

2C55,3C55,IC55
CF53, Cm55,
CK55, C55

2C60, 3C60, 1C60,C60, CK60
Cm60

CF70, C67
CK67, M75

BS 970

070M55
080A57
060A57

060A62
080A62

060A72
080A67

EN

9,9K,43,
43G, 43J

43D,49C

42B,42C
42E,42F
43E,49D

JIS

S53C
S55C
S58C

-

GOST

St.Gr.55

St.Gr.60

St.Gr.70

Nominal Chemical Composition %

C

0.55

0.60

0.70

Si

0.25

0.25

0.25

Mn

0.60

0.65

0.65

P Max

0.035

0.035

0.035

S Max

0.035

0.035

0.035

VISL Equivalent


M E55

M E60

M E70

Applications

Used in the heat treated condition for a great variety of components in vehicle and for general engineering where low mechanical properties and small sections of the heat treated articles are involved. The grades with higher "C" content are mainly applied for parts subject to wear in the normalised state: brake, camshaft, axles, spring bolts, roller - bearing for bridges, gear driving wedges, etcs

Forging Temp. °C

1100-850

1050-850

1050-850

820-850

820-850

820-850

Soft Annealing
Temp.°C

660-700

660-700

680-700

Annealed hardness
BHN max

200

204

204

Hardening Temp.°C


810-840
800-830

810-840
800-830

810-830

Hardening media


Oil
Water

Oil
Water


Oil

Tempering Temp. °C

670-530

670-530

As per
requirement

VISL Equivalent

M E55

M E60

M E70
IS

4C2,5C4,7C4
10C4,C04,
C05,C07

10C4, 14C6
15C8,Class-1
Class-1A
15C4

20C8, 25C4
25C8, Class-2
Class-2A

35C8,35C4
Class-3A
C35Mn75

40C8

Class-4
45C8
C 45

AISI/SAE

1005,1008
1010, 1011, 1012

1013, 1015
1016, 1017
1018, 1019

1020,1021,1022
1023,1025,
1026,1525

1035,1037
1038

1038H,1039
1040,1042

1043,1044
1045,1045H
1046


DIN

C10, CK10

C15, CK15
Cm15

2C22, 3C22, C22,
CK21,1C22,1C25
CK22,CQ22,2C25
3C25

2C35,3C35,C35
CF35,CK35,CQ35
Cm35,1C35

KC40,1C40
2C40,3C40

C45,CF45,CK45
Cm45, KC45,2C45
3C45,1C45

BS 970

040A04, 040A10
040A12, 045A10

080A15,080M15
080A20

040A22, 050A22,
070A20, 080A20
080M20,070M26


080A35, 080A37
080M36

080A40,080A42
080M40

080M46
080A47

EN

2A, 2A/1
2B, 2E, 32A

2, 32B
32C

2C,2D,3,
3A,3B,3C
3D,4,4A

6,6A
6K,8A

8,8B
8C,8D
8K

43B
49A,49B

JIS

S09C,S12C
S10C

S15C,
S17C

S20C
S22C
S25C

S40C

S40C

S43C
S45C

GOST

19032-III-OA

15†,20†
1050-74/Gr.15

25†

35†
1050-74/Gr.35

-

45†
St. Gr.45

Nominal Chemical Composition %

C

0.09

0.15

0.22

0.41

0.45

0.45

Si

0.25

0.25

0.25

0.25

0.25

0.25

Mn

0.40

0.40

0.50

0.65

0.65

0.65

P Max

0.035

0.035

0.035

0.035

0.035

0.035

S Max

0.035

0.035

0.035

0.035

0.035

0.035

VISL Equivalent


M E10

M E16

M E25

M E35

M E40

M E45

Applications

Used in the heat treated condition for a great variety of components in vehicle and for general engineering where low mechanical properties and small sections of the heat treated articles are involved. The grades with higher "C" content are mainly applied for parts subject to wear in the normalised state: brake, camshaft, axles, spring bolts, roller - bearing for bridges, gear driving wedges, etcs

Forging Temp. °C

1100-850

1100-850

1100-850

1100-850

1100-850

1100-850

910-930

910-930

880-910

860-890

850-880

840-870

Soft Annealing
Temp.°C

-

-

660-700

660-700

660-700

660-700

Annealed hardness
BHN max

-

-

160

175

190

190

Hardening Temp.°C


890-920
770-800

890-920
770-800

860-890

850-880
840-870

840-870
830-860

830-860
820-850

Hardening media


Quenching in W/SB
at 180-250° C

Quenching in W/SB
at 180-250° C

Water

Oil
Water

Oil
Water

Oil
Water

Tempering Temp. °C

150-180

150-180

670-530

670-530

670-530

670-530

VISL Equivalent

M E10

M E16

M E25

M E35

M E40

M E45
IS

13Ni13Cr3
13Ni3Cr80

15Ni13Cr3Mo2

20Ni2CrMo2

20Ni2Cr2Mo2

15Ni5Cr4Mo1|
15Ni7Cr7Mo2
16Ni8Cr7Mo3
20Ni7Cr2Mo20
16Ni6Cr7Mo3

AISI/SAE

3310H

9310H

8615, 5617
8617H
8620,8620H
8622,8622H
8625,8625H
8627,8627H
8630,8720

4320, 4320H
4718, 4718H
4720, 4720H

DIN 17006

14NiCr14

-

21NiCrMo2

17CrNiMo6
18CrNiMo7-6

BS 970

655M13

805H20
805H22
805A20
805H17
805M17
805M20
805M22


815M17
815H17
820M17
820H17
822H17
822M17

EN

36A,
36B

36C

361
362
363

325
353
354

JIS

SNC815
SNC815H

-

SNCM220

-

GOST

20XH3A
20XTCA
30XTCA

-

-

-

Nominal Chemical Composition %

C

0.12

0.14

0.20

0.16

Si

0.25

0.25

0.28

0.25

Mn

0.40

0.50

0.85

0.50

P Max

0.035

0.035

0.035

0.035

S Max

0.035

0.035

0.035

0.035

Cr

0.70

0.70

0.50

1.65

Mo

-

0.18

0.20

0.30

Ni

3.45

3.50

0.55

1.55

V

-

-

-

W

-

-

-

-

VISL Equivalent


M ES Spl

M ES Spl+Mo

M ECN Mo

M ECNMo170

Applications

For heavy duty gearing, air craft and transport vehicle construction. M-ECNMo 170 is well suited for parts where direct hardening is preferred.

This class of steel possess high tensile strength of core coupled with high toughness and used for components in vehicles and air crafts as well as for general engineering purposes, where blows and shocks are involved. In case where exceptionally high toughness is required, our brands M-ESS Spl and M-PPA are economically used.

Forging Temp. °C

1100-850

1100-850

1100-850

1100-850

850-880

850-880

850-880

840-870

Soft Annealing
Temp.°C

640-660

640-660

640-680

640-690

Annealed hardness
BHN max

210

217

207

217

Hardening Temp.°C


830-850
700-800

830-850
700-800

840-870
800-830

840-870
800-830

Hardening media


Oil/Salt Bath
at 180-250° C

Oil/Salt Bath
at 180-250° C

Oil/Salt Bath
at 180-250° C

Oil/Salt Bath

Tempering Temp. °C

140-160

170-200

170-200

170-210

VISL Equivalent

M ES Spl

M ES Spl+Mo

M ECN Mo

M M ECNMo170
IS

15Cr65
15Cr3

15Mn5Cr4
17MnlCr95
16Mn5Cr4

20Mn5Cr5
20MnCr1

-

AISI/SAE

5115

5117

5120
5120H

4120
4120H
4121

DIN 17006

15Cr3
17Cr3

16MnCr5

20Cr4
20MnCr5

20CrMo5

BS 970

523M15
527M17
20Cr4

-

EN

206
207

20MnCr5

-

-

JIS

-

-

SCr420
SCr420H

SCM418H
SCM420
SCM420H
SCM421

GOST

15X
15XA
20X

-

18X†

-

Nominal Chemical Composition %

C

0.15

0.16

0.20

0.20

Si

0.25

0.25

0.25

0.25

Mn

0.50

1.15

1.25

1.05

P Max

0.035

0.035

0.035

0.035

S Max

0.035

0.035

0.035

0.035

Cr

0.65

0.95

1.15

1.15

Mo

-

-

-

0.25

Ni

-

-

-

-

V

-

-

-

-

W

-

-

-

-

VISL Equivalent


M EB60

M EB80

M EB95

M ECL 100

Applications

For small parts with medium core strength and good wear resistance such as piston rings, bushes, drilling machine spindles etc.

Parts subject to medium stress but with high surface hardness, such as gear wheels, steering parts, shafts, camshafts, spindles for use in the construction of vehicles and general engineering works.

Forging Temp. °C

1100-850

1100-850

1100-850

1050-850

870-900

860-890

860-880

860-880

Soft Annealing
Temp.°C

650-700

650-700

650-700

670-700

Annealed hardness
BHN max

200

207

217

223

Hardening Temp.°C


870-900
770-800

850-880
810-840

850-880
810-840

830-860
800-830

Hardening media


Water/Salt Bath
at 180-230° C

Oil/Salt Bath
at 180-250° C

Oil/Salt Bath
at 180-250° C

Oil

Tempering Temp. °C

150-180

170-200

170-200

170-200

VISL Equivalent

M EB60

M EB80

M EB95

M ECL 100
IS

31Ni10Cr3Mo6
40Ni10Cr3Mo6

40Ni6Cr4Mo3
40Ni2Cr1mo28
40Ni6CrMo2

30Cr4Mo2

40Cr4Mo3
42Cr4Mo2
40Cr1Mo28

AISI/SAE

-

4337
4340
4340H

4135
4135H

4137 4137H
4140 4140H
4142 4142H


DIN 17006

36NiCr10

-

30CrMo4
34CrMo4

42CrMo4

BS 970

-

708A37
708A42
708H37
708H42
708H45
708M40
709M40

EN

-

24

-

19
19A
19B
19C

JIS


SNC631
SNC631H

-

SCM435
SCM435H

SCM440
SCM440H
SCM445
SCM445H

GOST

-

-

-

-

Nominal Chemical Composition %

C

0.36

0.40

0.34

0.42

Si

0.25

0.25

0.25

0.25

Mn

0.65

0.65

0.65

0.65

P Max

0.035

0.035

0.035

0.035

S Max

0.035

0.035

0.035

0.035

Cr

0.75

0.75

1.05

1.05

Mo

-

0.37

0.20

0.20

Ni

2.50

1.35

-

-

V

-

-

-

-

W

--

-

Others

-

-

-

-

VISL Equivalent


M V25H

M NMH

M VCL135

M VCL140

Applications

Used where extra-ordinary high toughness is required. Their tendency to temper brittlleness is eliminated by rapid quenching in oil or water after hardening. Therefore temperature of 400° C should not be exceeded if a subsequent stress relieving is applied.

For heat treated components of large sections and subject to very exacting requirement. Due to Molybdenum contents, these steels are insusceptible to overheating and free from temper brittleness while permit higher stress relieving temperatures. Mainly used in the construction of air crafts and heavy vehicle for crank shafts, connecting rods, gear shafts, chain parts, clutches, propeller shafts, camshafts, cardon shatfs etc.

For treated parts of medium cross section where high tensile and impact values are required, combined with high endurance bending strength, gears, vehicle engine crank-shafts, stub axles, connecting rods, spindle, transmission gears, shafts for pumps and gearing, etc. If good weldability is also required, then M-VCL125 is recommended

Forging Temp. °C

1200-850

1100-850

1050-850

1050-850

850

850-880

860-890

850-880

Soft Annealing
Temp.°C

630-650

650-700

680-720

680-720

Annealed hardness
BHN max

269

220

212

217

Hardening Temp.°C


850

830-850

830-850
820-840

830-850
820-840

Hardening media


Oil

Oil

Oil
Water

Oil
Water

Tempering Temp. °C

600

670-530

670-530

670-530

VISL Equivalent

M V25H+Mo

M NMH

M VCL135

M VCL140
IS

42Cr6V1
T50Cr4V2
T55Cr3V2

50Cr4V2
60Cr4V2
50Cr1V23
58Cr4V1

40Cr1
50Cr4
55Cr3
40Cr4

AISI/SAE

-

6150
6150H

5140 5140H
5145
5147
5150
5155
5160

DIN 17006

42CrV6
45CrV7

50CrV4
55CrV3
58CrV3

46Cr2
37Cr4
39Cr4
39Cr4
40Cr4
41Cr4
41CrS4
37 CrS4

BS 970

-

530H40
530M40
530H42

EN

-

47
50

18,18D
48

JIS


-

-

SCr 440
SCr 440H

GOST

-

-

33XC
40X
45X
45X1

Nominal Chemical Composition %

C

0.45

0.50

0.40

Si

0.25

0.25

0.25

Mn

0.70

0.95

P Max

0.035

0.035

S Max

0.035

0.035

Cr

1.75

1.05

Mo

-

-

Ni

-

-

V

0.15

0.12

W

-

-

Others

-

-

VISL Equivalent


M VB200

M CRV

M VMC

Applications

The high retention of hardness inherent of hardness inherent of this class of steels made possible increased stress relieving temperatures and consequently and enhanced freedom from stress for components.

Forging Temp. °C

1050-850

1100-850

1050-850

870-900

850-880

850-880

Soft Annealing
Temp.°C

680-720

650-700

680-720

Annealed hardness
BHN max

223

220

217

Hardening Temp.°C


870-890
860-880

830-850

830-850
820-840

Hardening media


Oil
Water

Oil

Oil
Water

Tempering Temp. °C

670-530

670-530

670-530

VISL Equivalent

M VB200

M NMH

M VMC
IS

50Cr4V2

60Cr4V2

55Si2Mn90

55Si7

AISI/SAE

6150
6150H

-

DIN 17006

50CrV4

58CrV4

60SiMn5

48Si7
51Si7

BS 970

-

-

EN

47

50

45A

45.46

JIS

-

SUP12

GOST

-

-

Nominal Chemical Composition %

C

0.50

0.58

.52

Si

0.25

1.65

1.65

Mn

0.95

0.95

0.70

P Max

0.035

0.035

0.035

S Max

0.035

0.035

0.035

Cr

1.05

-

Mo

-

-

Ni

-

-

V

0.12

-

W

-

-

Others

-

-

VISL Equivalent


M CRV

M KHS

M KHSW

Applications

Spiral springs, subject to increased loads (high yield-to-tensile ratio).

Leaf and volute springs for large
sections especially for wagon building
including helical and plate springs. These grades have a reduced tendency todecarburization and lower sensibility to over heating compared with plain manganese spring steels.

Forging Temp. °C

1050-850

1050-850

1050-850

870-900

850-880

840-870

Soft Annealing
Temp.°C

680-720

680-700

680-700

Annealed
Hardness BHN max

223

223

223

Hardening Temp.°C


840-870

830-860

820-850

Hardening Media


Oil

Oil

Water

Tempering Temp.°C

470-540

450-500

470-500

VISL Equivalent

M CRV

M KHS

M KHSW
IS

103Cr2, 103 Cr2Mn70

AISI/SAE

52100 (BB)

DIN 17006

100Cr6

BS 970

-

EN

31 (BB)

JIS

SUJ2

GOST

-

Nominal Chemical Composition %

C

1.00

Si

0.30

Mn

0.30

P Max

0.025

S Max

0.025

Cr

1.50

Mo

-

Ni

-

V

-

W

-

Others

-

VISL Equivalent


M K150

Applications

Steel having maximum purity
to make balls, rollers and races for
interdemediate and bigger sections.

Forging Temp. °C

1100-800

-

Soft Annealing
Temp.°C

750-800

Spherocise Annealed
Hardness Temp . °C

207

Hardening Temp.°C


830-870 (O)
800-830 (W)

Tempering Temp.°C


150-250(O)

Nitrided surface hardness VPM

63-65
63-67

VISL Equivalent

M K150